Put your Facebook, Twitter and Email Newsletter on Autopilot.
Echo automatically posts interesting, original content on your behalf to Facebook, Twitter and your email subscribers. So you can do a little less for a change.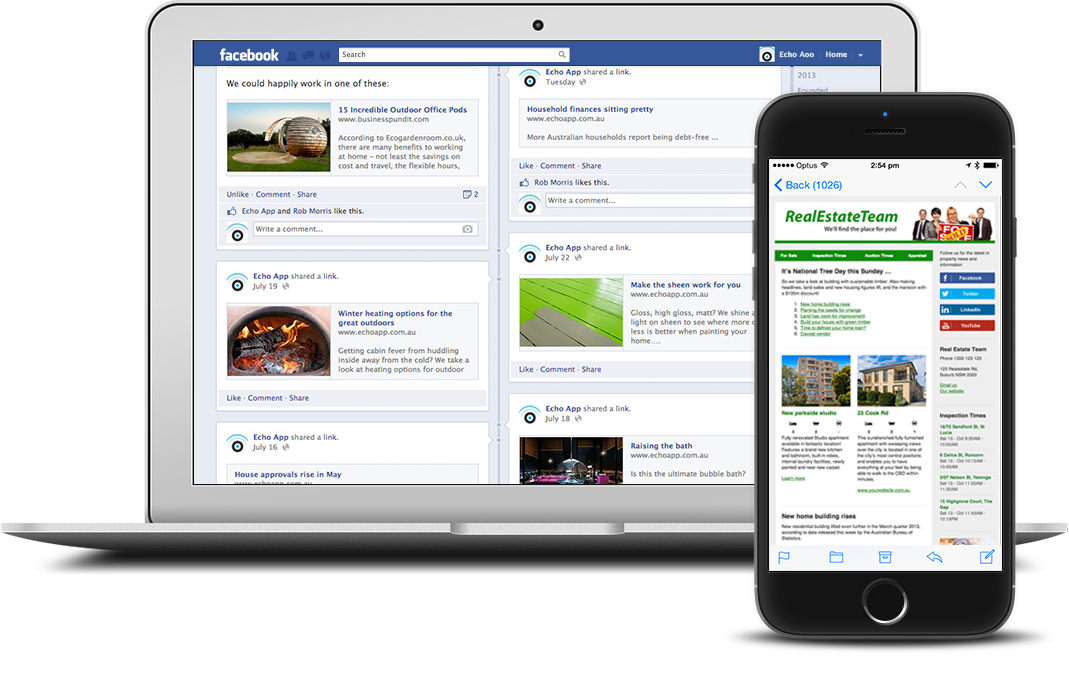 Effortless email and social marketing for real estate agents.
Made just for real estate agents – The Busiest People On EarthTM
We produce original, engaging content every week

Our experienced team of copywriters research and write stories with flair and wit that your subscribers, fans and followers will enjoy. Each week on Wednesday, we release the week's content for you to review and tweak.

Add your properties and your personal touch

You can let Echo do everything when you don't have time to do anything. But when you do have time, you can add your own introduction, property listings, upcoming inspection times and your recently sold list, as well as your own agency stories and content. Everything is done in moments using our agent-friendly dashboard.

Echo gets to work and starts publishing automatically

Each week your email subscribers receive a beautiful email newsletter full of interesting stories, along with your inspection times and listing information. The newsletter comes from your email address and is professionally branded with only your colours, logo, images and sales collateral.

That's not all. Each day for the next week, Echo posts one story per day to your Facebook and Twitter pages automatically so you're never out of things to say. It keeps your pages fresh and engaging. If consistency is king, then you'll rule the land.
Here's what our clients have to say
They also happen to be some of the top agents in Australia
Every week the content in Echo is of interest to my customer base, and my readership and engagement reflect that. The team understand exactly what my audience is looking for, and in turn, I have had very few people unsubscribe from my newsletter, even after they've bought or sold a house.

Adam Nobel

#1 RE/MAX Sales Agent Nationally
I've been using Echo for a long time now, and continuously get feedback from clients about the quality of news I send them each week. In the age of newsletters, this is one of the superior ones. It's been around the longest, and for good reason.

Fiona Rimes

Principal of Coleman Rimes Real Estate
Without hesitation, I can recommend the wonderful product – Echo – that I have had as a mandatory tool of trade now for many years. The recently updated system offers a fabulous format, an easy to read style, and lest we forget, is user friendly for agents, which is wonderful.

Miguel Zalapa

Rated in the top 5% agents in Australia in 2012